eSseCi DESIGN
The place where Design and Technology mix-up
Everything you need for your Hi-End System
The amazing Isolation Floating Board
The S.A.P. audio Relaxa 750 is the flagship of the latest reincarnations of this now classic – born and patented in 1999 – unique magnetic isolation device. The platform is made by tempered glass, an absolutely rigid material even under prolongued heavy load. It is floating in the air thanks to custom powerful magnet couples. They eliminate the influence of any external vibration of whatever frequency more than it is possible with any other isolation technique. The strong magnetic field of the magnets is directed along the vertical direction and the small residual is confined within their housing. The working load is very wide: from 3 Kg up to 50 Kg (110 Lbs). The horizontal level may be adjusted simply by turning the magnets housing and checked with the supplied level gauge.
Effective size W 560 x D 460 mm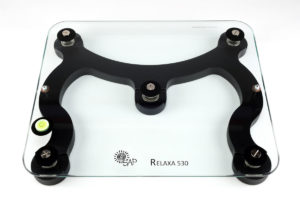 The S.A.P. audio Relaxa 530 is made by tempered glass, an absolutely rigid material even under prolongued heavy load. It is floating in the air thanks to 5 powerful magnet couples. They eliminate the influence of any external vibration of whatever frequency more than it is possible with any other isolation technique. The strong magnetic field of the magnets is directed along the vertical direction and the small residual is confined within their housing. The working load is very wide: from 3 Kg up to 30 Kg. The horizontal level may be adjusted simply by turning the magnets housing and checked with the supplied level gauge.
Effective size W 512 x D 460 mm
Explore! You will love it.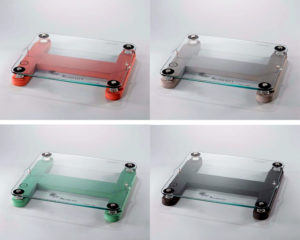 Need smaller? Just choose your favorite colour.
Innovation in your audio system
Available in red, green, gray and black.
It can carry between 3 Kg and 20 kg.
S.A.P. audio Relaxa 622: 515 x 460 mm
S.A.P. audio Relaxa 622S: 489 x 400 mm
We are masters in this unique magnetic technology since years, we have developed the 530 and the 622 types and we may surely fullfill any customization new wish from our customers.
Find your store
For any special request, in terms of size, shape and load capacity, please feel free to contact EsseCi Design.